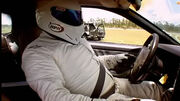 Series 9, Episode 3 was set in the United States, with the presenters purchasing American cars and driving them across four states whilst on holiday. One of the challenges set for the presenters was for the cars to set a lap time around a racetrack, for which "the Stig's American cousin" was introduced. He was nicknamed "Big Stig" by the presenters because of his obese appearance and was noted by Clarkson to have a "very relaxed driving style".
Ad blocker interference detected!
Wikia is a free-to-use site that makes money from advertising. We have a modified experience for viewers using ad blockers

Wikia is not accessible if you've made further modifications. Remove the custom ad blocker rule(s) and the page will load as expected.