This is the
BMW Z4
whilst it may not be looker it's quite quick,
Jeremy
said "it isn't a raptor but since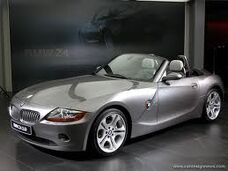 I am doing 140 it isn't a cow either. It is nice to drive but it is still a great sports car."
The BMW Z4 is a rear-wheel drive sports car by the German car maker BMW. It follows a line of past BMW roadsters such as the BMW Z1, BMW 507, BMW Z8, and the BMW Z3. The Z4 replaces the Z3. First generation production started in 2002 at BMW USA's Greer, South Carolina plant, with production of both roadster and coupe forms. When debuted, it won Automobile Magazine "Design of the Year Award". Starting with the 2009 model year, the second-generation Z4 is built at BMW's Regensburg, Germany plant as a retractable hardtop roadster. In 2009, the BMW Z4 won the Red Dot Design Award.
Ad blocker interference detected!
Wikia is a free-to-use site that makes money from advertising. We have a modified experience for viewers using ad blockers

Wikia is not accessible if you've made further modifications. Remove the custom ad blocker rule(s) and the page will load as expected.