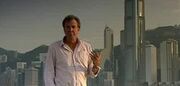 The BMW X6 Test was a test of the most current X6 of the time by Jeremy Clarkson. The test is famous for being one of the, if not most, expensive test ever conducted on Top Gear as Clarkson visited many locations throughout the world. The test was shown in series 14 of Top Gear.
Test Overview
Edit
Jeremy first visits Spain to test if the X6 handles any differently on their roads. He concludes that it doesn't. He then visits a skiing village in Switzerland to see if the car can handle snowy conditions. He concludes that it can't handle snowy conditions after the car slides down the hill he is trying to get up. Jeremy then decides to visit Hong Kong in search of a metaphor to describe the car. He later likens the X6 to the ICC (International Commerce Centre) Tower. Jeremy then visits Sydney, Australia to see if the glove box still works 'up-side' down. He concludes that it does. Later, Jeremy decides to visit Barbados to see if a caribbean holiday would be better than the X6. He concludes that it does whilst riding on a jet ski.
Ad blocker interference detected!
Wikia is a free-to-use site that makes money from advertising. We have a modified experience for viewers using ad blockers

Wikia is not accessible if you've made further modifications. Remove the custom ad blocker rule(s) and the page will load as expected.