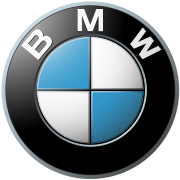 BMW (Bavarian Motor Works) is a major German automobile manufacturer based in Munich. It is known for high-performance and luxury cars and currently owns the Rolls-Royce and MINI brands.
Cars on Top GearEdit
The first appearance of a BMW on Top Gear was during Series 1 when the show reviewed the BMW Z4 sports car. Then, in the following series the show reviewed the BMW M3 coupe and in Series 3 the show reviewed the legendary BMW M5 performance saloon. Presenter Jeremy Clarkson is an outspoken fan of the M5 but found problems with the latest model, complaining about the on-board computer and the gearbox saying that there was 'much to hate' about the car. Clarkson soon found that the car was still an excellent performer, although you have to look past the over-complicated nature of it, saying that it was 'the best four-door saloon ever'.
The most recent appearance of a BMW on Top Gear was when Clarkson reviewed the BMW M135i
in series 21 episode 5. He initially liked it for its performance, but after unexpectedly spinning off in a drag race, he began to favour the
Volkswagen Golf GTI
.
Ad blocker interference detected!
Wikia is a free-to-use site that makes money from advertising. We have a modified experience for viewers using ad blockers

Wikia is not accessible if you've made further modifications. Remove the custom ad blocker rule(s) and the page will load as expected.