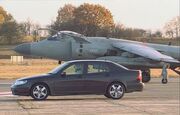 The BAE Sea Harrier is an Royal Navy carrier-based fighter plane that holds the record for the fastest time around the Top Gear Test Track. While not counted on the Power Lap Board as the rules claim the vehicle has the be 'Road Legal', which, of course, the Harrier is not. The time it set was 0:32.2 sec whilst in a race with a Saab 9-5 Aero. The Pilot, Lieutenant Nick Arkle took off and flew around the track, before finishing in the air.
The race featured in Series 03, Episode 03, which was first broadcast on 9 November 2003.
Here is a link to a Video of the race: http://www.patricksaviation.com/videos/detektif_conan78/4816/
Ad blocker interference detected!
Wikia is a free-to-use site that makes money from advertising. We have a modified experience for viewers using ad blockers

Wikia is not accessible if you've made further modifications. Remove the custom ad blocker rule(s) and the page will load as expected.