Audi TT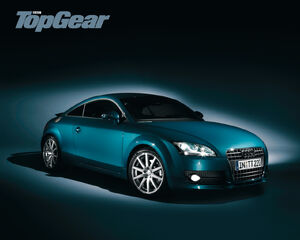 The Audi TT is a two-door sports car manufactured by the German automaker and Volkswagen Group subsidiary Audi since 1998.
The Audi TT has been produced in two generations. Both generations have been available in two car body styles; as a 2+2 Coupé, or two-seater Roadster. They have been built on consecutive generations of the Volkswagen Group A platform, starting with the A4 (PQ34). As a result of this platform-sharing, the Audi TT has identical powertrain and suspension layouts as its related platform-mates; this includes a front-mounted transversely oriented engine, front-wheel drive or quattro permanent four-wheel drive system, and fully independent front suspension using MacPherson struts.
Ad blocker interference detected!
Wikia is a free-to-use site that makes money from advertising. We have a modified experience for viewers using ad blockers

Wikia is not accessible if you've made further modifications. Remove the custom ad blocker rule(s) and the page will load as expected.