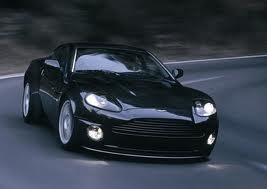 Now, the Vanquish S is no ordinary Aston. It was the fastest production car Aston Martin has made before they released the One-77. It also has rather delightful handling. But is it really much better and different than the ordinary Vanquish? There were plenty of differences, but none of them immediately noticeable. Aston lowered the ride height, stiffened the suspension and tweaked the steering. It also had a nice amount more horsepower. So, now the big test: is it any good when put against a Ferrari 575.
The comparison comprised of a 1/4 mile drag race and a breaking test. The result: the Aston lost the drag race. And then it lost the braking test. But, in an Aston you can pretend to be James Bond.
The Power Lap
Edit
The main question preceding the lap was would the S be any quicker than the ordinary Vanquish. Ah, yes, as a matter of fact it would be. the Vanquish S cmpleted its lap in a time 1.27.1.
Years produced: 2004-2007
Engine: V12
0-62 m.p.h.: 4.0 seconds
Power: 520 b.h.p.
Max. speed: 204 m.p.h.
Gadgets: A Sports Dynamic Pack gives sportier steering, suspension and brake features.
Cool factor: If you purchased one of these you would be offered a free driving course in your choice of North
America or Belgium.
Trivia: The car has improved stability courtesy of an aerodynamic splitter.
The flappy-paddle transmission has more say over when to change gear than the driver.
The bootlid has been redesigned for improved stability and balance.
Ad blocker interference detected!
Wikia is a free-to-use site that makes money from advertising. We have a modified experience for viewers using ad blockers

Wikia is not accessible if you've made further modifications. Remove the custom ad blocker rule(s) and the page will load as expected.