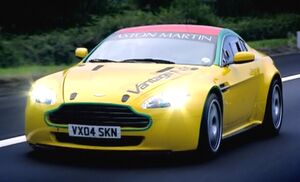 The N24 is certainly a no-frills car. It hasn't got a radio. Or air-conditioning. Or carpets. Or a passenger seat. But don't worry because it has a lot of switches. Such as a master switch. Or an ignition switch. Or a fuel reset switch. Or some pump reset switches. But they're only the ones required to start the engine.
Once James began his quest - accompanied by Jeremy and Richard in their own supercars - to find the best road in the world he gradually began to hate the hot Aston. It made a lot of noise, it made James sweat and it made his bottom ache. James was happier after he bought himself a cushion to sit on.
Years produced: 2006-present
Engine: V8
0-62 m.p.h.: 5.3 seconds
Power: 410 b.h.p.
Max. speed: 175 m.p.h.
Gadgets: None
Cool factor: This is an Aston for people who like raw, basic racing.
Trivia: It's 250 k.g. lighter than the standard V8 Vantage. It weighs about the same as a large motorbike.
It doesn't have a window. It's more of a catflap.
The seatbelt takes about 5 minutes to work out how to get it on.
Ad blocker interference detected!
Wikia is a free-to-use site that makes money from advertising. We have a modified experience for viewers using ad blockers

Wikia is not accessible if you've made further modifications. Remove the custom ad blocker rule(s) and the page will load as expected.