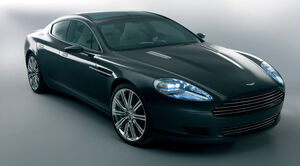 The Aston Martin Rapide is a four-door, high-performance sport saloon, which British luxury marque Aston Martin introduced in early 2010. It was first presented as a concept car at the North American International Auto Show in 2006. The Rapide name is a reference to the Lagonda Rapide, a saloon car produced by Lagonda, now part of Aston Martin. The car is based on an Aston Martin DB9. The base price for the Aston Martin Rapide is $199,950 (USD) and the first cars were rolled out in May 2010.
The Rapide is built at a dedicated plant at the Magna Steyr facility in Graz, Austria. Production began in 2010 and the factory plans to build 2,000 per year. The concept car version featured a full-length glass roof and LED light bars on the rear end, two firsts for Aston Martin. The glass roof was not carried through to production.
Ad blocker interference detected!
Wikia is a free-to-use site that makes money from advertising. We have a modified experience for viewers using ad blockers

Wikia is not accessible if you've made further modifications. Remove the custom ad blocker rule(s) and the page will load as expected.