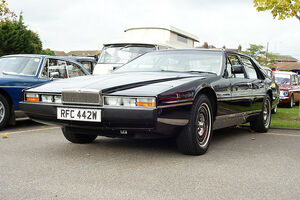 The Lagonda is the result of hiring a designer obsessed with aerodynamics - hence the low nose, and lots of flashy lights and buttons to push. So the designer spent a fortune on the nose and the electronics but forgot one very important question - will the car be any good? Sadly, the answer was no.
James blamed the car's looks, on both the exterior and interior - because, to be honest, they are rather peculiar, especially for an Aston. The next fault was the tendency the switches, buttons and L.E.Ds had to stop working. Also the first Lagonda was built a year to light because of trouble with the electricals. Throughout its 12 year lifespan Aston only churned out 645 units. One may assume Aston Martin did this to make them collectibles. They certainly are today. But the real reason was because no one wanted it. Shame, really.
Specification
Edit
Years produced: 1978-89
Number produced: 645
Engine: V8
0-62 m.p.h.: 8.5 seconds
Power: 263 b.h.p.
Max. Speed: 143 m.p.h.
Loads of previously unseen technology - L.E.D. digital instruments, touch-sensitive switches and electronic memory seats.
Cool factor
Edit
A Saudi prince had one bought for him and a Saudi princess had a green one bought for her. Bouth had matching blinds and curtains - the epitome of coolness in the 70s.
Large 19-inch wheels came with Pirelli tyres.
The interior focused on the L.E.D. display. Flashing lights were everywhere you looked.
Ad blocker interference detected!
Wikia is a free-to-use site that makes money from advertising. We have a modified experience for viewers using ad blockers

Wikia is not accessible if you've made further modifications. Remove the custom ad blocker rule(s) and the page will load as expected.