The Aston Martin DB9 is a sports car featuring in multiple Top Gear Episodes, and a vehicle produced domestically in their country of origin, the United Kingdom.
Appearances
Edit
Jeremy
once raced a DB9 to Monte Carlo,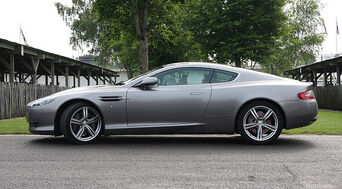 where Astons ought to feel at home, against
Richard
and
James
on bus, small train, Eurostar, underground and TGV. James and Richard used nothing other than public transport (so no car, no taxi) and Jeremy could use nothing other than the DB9, no use of trains allowed.
Because modern Astons are built in a modern factory using costly materials and advanced machinery, the Aston was certain to be fast, comfortable and impressive. James and Richard's train was capable of 186 mph or 298 km/u, just a tiny bit slower than the DB9. It was a close race, but Jeremy won with 15 minutes. Jeremy was quite pleased. Richard and James less so.
The DB9 is the succesor of the DB7 and belongs to the prettiest cars ever made, if not number one.
It also makes the greatest noise of them all.
Specification
Edit
Years Produced: 2004-present
Engine: 6 liter V12
0-62 mph / 100 km/h: 4.5 seconds
Power: 460 bhp
Max. Speed: 190 mph / 304 km/h
Gadgets: The design of the cabin means the driver sits as close to the car's centre of gravity as possible, which means you'll appreciate every little action the Aston Martin makes.
Cool Factor: It is even better than subzero, Jeremy gave it its own fridge. There is no possible way to look uncool.
The exhaust silencer is aerodynamically designed to make sure the DB9 can reach its top speed with ease.
The fuel cap button was so well hidden it took Jeremy a long time to find out where it was. He found this rather annoying.
The engine is actually based on two Ford Duratec 3.0L V6 engine (the engine that powered the Ford Mondeo ST220) mated together. Ford and Cosworth designed the engine, and Cosworth is in charge of assembling the engine. The funny thing is, the Mondeo ST220 is rarer than the DB9.
Troyes is the city featured for some nighttime filming.