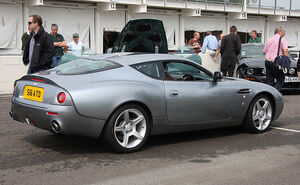 Aston and Zagato have co-operated with each other to make exclusive limited edition models since the 60s and each car produced became an immediate collector's item. The DB7 is just another great example of the work with the Italians to produce a variation on the Aston Martin DB7 Vantage Volante.
Zagato took Aston's most popular model, the DB7 and made it shed weight and length and added the famous double-bubble roof. In 1961 Aston and Zagato joined to manufacture the DB4 and you can feel that in the DB7.
Specification
Edit
Years produced: 2003-2004
Number produced: 99
Engine: V12
0-62 m.p.h.: 4.9 seconds
Power: 440 b.h.p.
Max. Speed: 186 m.p.h.
Cool factor
Edit
In order to see the DB7 Zagato you had to receive a personal invitation from Aston.
A Zagato can be identified by its shark-like radiator grille.
The upholstery goes without treatment so it ages with its owner.
The bodies were hand-made in Italy then imported over to England completely white for Aston Martin to apply the finishing touches.
Ad blocker interference detected!
Wikia is a free-to-use site that makes money from advertising. We have a modified experience for viewers using ad blockers

Wikia is not accessible if you've made further modifications. Remove the custom ad blocker rule(s) and the page will load as expected.