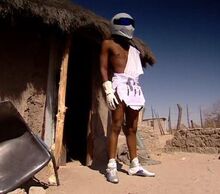 Series 10, Episode 4 featured the presenters driving across Botswana. To test the performance of the three cars used by the presenters around a dirt rally track, Clarkson introduced "The Stig's African cousin." This incarnation of The Stig was black, wore only Puma shoes, a loincloth and his' iconic white helmet. He set lap times for two of the cars, but walked away from the track when Clarkson's Lancia Beta failed to start. The others joked that African Stig was trying to get a respectable time by walking the course, and didn't bother using the car as it was too slow.
Ad blocker interference detected!
Wikia is a free-to-use site that makes money from advertising. We have a modified experience for viewers using ad blockers

Wikia is not accessible if you've made further modifications. Remove the custom ad blocker rule(s) and the page will load as expected.