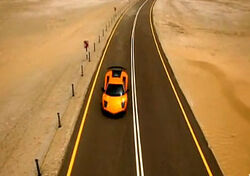 Abu Dhabi is a city in the United Arab Emirates (UAE). Richard Hammond visited the city to film for the 13th series of Top Gear.
Films in Abu Dhabi
Edit
Richard travelled to the Abu Dhabi desert to race a Bowler Nemesis against its own Dakar transport truck in the DVD-exclusive episode Top Gear Uncovered. After Richard accidentally beached the Nemesis on a sand dune, he went on to win the race by a whisker. This segment has not been shown on television. Richard tested the most current Lamborghini Murcielago of the time in the Abu Dhabi desert. This was followed by a race against a McLaren Mercedes-Benz SLR 722. The SLR ended up winning.
Richard also held another race, pitting the Bugatti Veyron against a McLaren F1. Richard was in the Veyron while the Stig was in the McLaren. The Veyron won in the end. Both these films ended up being broadcast in the second episode of the 13th series.
Ad blocker interference detected!
Wikia is a free-to-use site that makes money from advertising. We have a modified experience for viewers using ad blockers

Wikia is not accessible if you've made further modifications. Remove the custom ad blocker rule(s) and the page will load as expected.