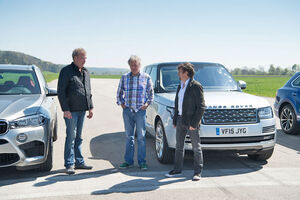 The twelfth episode of the first series of the Amazon motoring show The Grand Tour premiered on the 27th of January, 2017. It is entitled (Censored) to (Censored). Filming for the studio segments of the show took place in Loch Ness, Scotland.
Synopsis
Edit
The guys head off on a tour of Central Europe in three brand-new SUVs, taking in some of the rudest-named towns in Germany and Austria along the way, with May taking the Bentley Bentayga, Hammond the Jaguar F-Pace and Clarkson a Range Rover. Also, Clarkson hits the track in the new Lexus GS-F and the guys prove in a short video that Launch Control is the most "pointless thing" fitted to a car.
Celebrity Brain Crash
Edit
The Guest this week was Director Tim Burton who attempted to cross Loch Ness in a mini-submarine, but was killed as it implodes before reaching the tent, which Hammond blames on the Loch Ness Monster.
Tent Location
Edit
For this episode, and the one before it, the tent was pitched in Loch Ness, Scotland in the United Kingdom. More specifically, the tent was pitched on the shores of Loch Ness itself.
Ad blocker interference detected!
Wikia is a free-to-use site that makes money from advertising. We have a modified experience for viewers using ad blockers

Wikia is not accessible if you've made further modifications. Remove the custom ad blocker rule(s) and the page will load as expected.